Carnelian Gemstone Bracelet
Regular price
$100.00 TTD
Regular price
Sale price
$100.00 TTD
Unit price
per
Sale
Sold out
This listing is for a single (1) Carnelian Elastic Bracelet (A Grade) - in either 6mm, 8mm or 10mm beads.
Please note that the photos are stock photos of a few elastic bracelets. Our bracelets are made with natural crystals & gemstones, so each bracelet will have variations in natural characteristics such as color and exact bead size.
Confidence | Energy | Sensuality | Vitality 
A stabilizing stone, Carnelian restores vitality, and motivation and stimulates creativity. It gives courage, promotes positive life choices, dispels apathy, and motivates success.
Carnelian is useful for overcoming abuse of any kind. It helps in trusting yourself and your perceptions.
Carnelian encourages healthy relationships with your partner, loved ones, and friendships.
Chakra: Sacral | Element: Fire 
Affirmation: I act with power to improve my world.
Precaution: Carnelian should not be cleansed in salt water.
Pro Tip: Wearing Carnelian jewelry is a great way to tap into its innate powers and carry its vibrant vibrations with you wherever you go. You can also use Carnelian to clear your lower chakras so placing it on the chakra point on the body.
Bracelets are perfect for the wrist size 6 inches -6.5 inches - if you need a custom size made please inform us at check out. Larger sizes may be an additional cost.
PLEASE NOTE: To Prolong the life of your bracelet, we recommend that you do not swim, shower, or bathe with your bracelet on. Exposure to water can weaken the band and knots.
We also recommend taking your bracelet off before going to sleep and not stretching or playing with your bracelet to limit the chances of it getting caught on something and snapping the band.
Share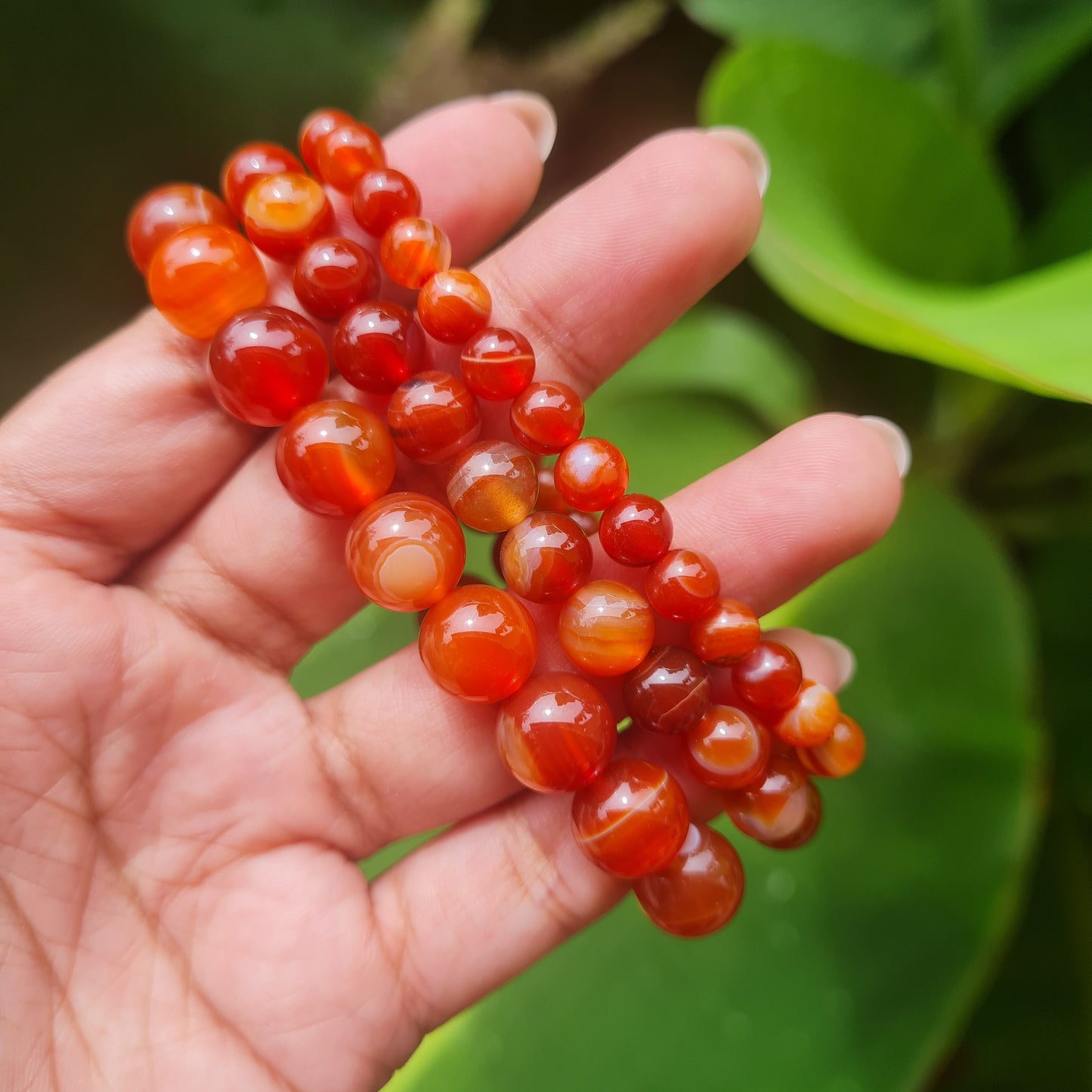 I love the carnelian i been draw to it for a while now and i should say its an amazing stone which helps motivate me.
Love
The carnelian has been coming up everywhere which suggested I had to get it. And as I did I really did need it. Thank you! I love the size also.